"Maker, ye maun sing them…
Tomorrow, songs
Will flow free again, and new voices
Be borne on the carrying stream."
(Hamish Henderson)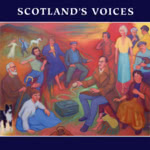 Traditional Arts and Culture Scotland (TRACS) presents the Hamish Henderson Summer School which reflects the visionary spirit and diversity of the founding father of Scotland's 20th Century folk renaissance, offering inspiration and enjoyment of the traditional arts against the backdrop of Alexander Moffat's striking 'Scotland's Voices' canvas.
TRACS is proud to present a programme of activities in celebration of Scotland's folk traditions, delivered by contemporary singers, musicians, activists, poets and thinkers inspired by Hamish, allowing you to dive deeper into Henderson's life, work and legacy, to get to the root of "Why Hamish Matters"!
There has been a resurgence of interest in Henderson's extensive body of work since the release of a documentary feature in 2016, produced by Bees Nees Media. Fred Freeman effortlessly puts Henderson's life and work into context, interspersed with recordings written by his friend and colleague, at 'Hamish Henderson's Carrying Stream' on Wednesday 31 July, 5pm, as he states:
"11th November, 2019 marks the centenary of the birth of Hamish Henderson, a man who personally accepted the surrender of Italy during WWII; who wrote award-winning war elegies (which bear comparison with Sassoon or Owen); who was a prime mover in founding of The School of Scottish Studies; and influenced, quite directly, the course of 20th-century history."  
Fred's insightful talk is followed by a private viewing of Alexander Moffat's exhibition – giving context to the pivotal figures captured on canvas which are accompanied by preparatory studies – ahead of 'The Ceilidh House: Come All Ye' at 7.30pm which showcases the joy of traditional arts live. Featuring Jess Smith (singer & storyteller), Charlie Grey (fiddler), Tina Jordan Rees (dancer) and David Francis (MC & caller) there's chances to participate in jovial company or just soak it all in, as Programme Manager, Daniel Abercrombie states:
'The ceilidh house was (and is) where the traditional arts of dance, music and story come together to be shared and enjoyed. TRACS exists to encourage the practice of those arts and to make them accessible to all. Our event aims to capture the spirit of the old ceilidh house where all are welcome!'
Thursday 1 August and Friday 2 August tap into Scotland's cultural riches with Summer School sessions from Ray Burnett, Donald Smith, Alison McMorland and Geordie McIntyre, Erin Farley, Steve Byrne, David Francis, Ewan McVicar, Fred Freeman, Stan Reeves, Mairi McFadyen and Stuart McHardy exploring international and local connections through the folk lens.
Then, as part of the Edinburgh Festival Fringe, enjoy Theatre Objektiv's 'Hamish Henderson: On the Radical Road' (2 – 26 August), an evocative drama sculpted from the poetry, music and songs of Hamish with a dynamic, ensemble delivery.
Scotland's folk revival continues, and these events are the perfect opportunity to stimulate!
Wed 31 Jul | 5pm – 6.15pm | £5
Hamish Henderson's Carrying Stream
Fred Freeman highlights the inspiration of Hamish Henderson's song, story, music and dance.
Wed 31 Jul – Tue 27 Aug | Free
Scotland's Voices
Exhibition by Alexander Moffat gathers the pivotal figures of Scotland's Folk Revival.
Wed 31 Jul | 7.30pm – 9.30pm | £10 (£8)
The Ceilidh House: Come All Ye
Welcome to The Ceilidh House, where people meet to dance, sing, play music and share stories.
Thu 1 Aug | 10.30am – 5pm | £20
Poetry, Song & Solidarity
Explore the upsurge of folk song in Scotland, its connections with poetry and the international political values that connects Scotland with the wider world.
Fri 2 Aug | 10.30am – 5pm | £20
Sustainable Cultures
Scotland taps into its cultural riches of content, styles and creative methods. Where is this heading and what will a sustainable cultural future look like?
Fri 2 Aug – Mon 26 Aug (not 5, 12, 19) | £12 (£10)
Hamish Henderson: On the Radical Road
Exhilarating ensemble theatre enacting and embracing Henderson's vision from Theatre Objektiv.